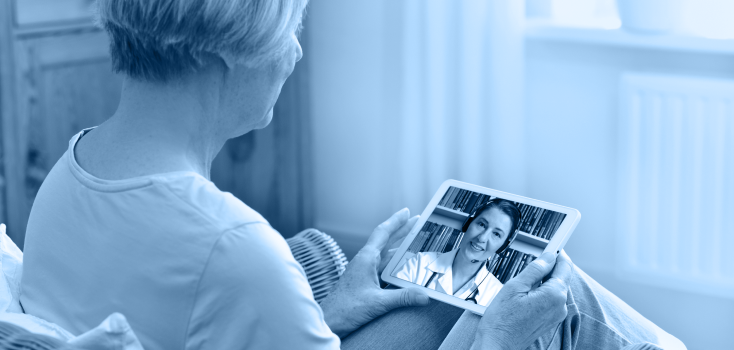 Video instead of visits to the doctor: Now, also hospitals rely on telemedicine
Visiting a doctor via app is becoming increasingly popular. The corona pandemic has changed a lot in this area: Not only are online health platforms becoming socially acceptable, but the first hospitals are opening up digital outpatient clinics.
Under certain circumstances patients will soon not need to go to the hospital to have an appointment with the doctor. The reason is that some hospitals will soon start offering a "digital clinic".
Patients will receive an appointment for the digital clinic and will then be able to register at certain time via a link on the hospital homepage. All they need is a mobile phone or laptop with a camera and microphone. After some online information about the person and anamnesis, a doctor will connect with them via a video chat. Patients can therefore continue their usual activities until the appointment – and also immediately afterwards.
For the hospital, this added value should consist in gaining more time, especially for more complex consultations and treatments, despite the enormous frequency of outpatient visits. In this way, resources can be better used. Patients, especially oncological and immunocompromised patients, could benefit from quick and low-threshold access to medical advice, sometimes saving them long journeys through the hospital disarmaments.
According to experts, "medicine from afar" could not only be helpful for patients, but also lucrative for the national economy. The business consultancy firm KPMG, for example, assumes that a nationwide use of telemedicine could relieve the entire health system. This is another argument in favour of hospital operators actively addressing this issue.
The implementation is not too far in the future: one example is the Hospital of the Sisters of Mercy in Rief, Austria: The hospital is one of four of the Vinzenz Group that will soon start offering a digital outpatient clinic.
Experts believe it is unlikely that the trend towards telemedicine could weaken or even reverse in the post-Corona period. Everything suggests that its importance will continue to increase – even before the scenario of an approaching shortage of doctors and, above all, general practitioners: In Austria, about 30 percent of all physicians in private practice are older than 55 years.