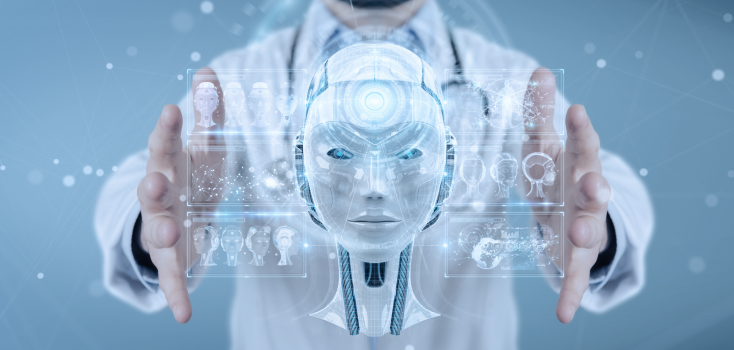 How technology creates more human proximity
Human versus machine: This discussion has been going on for many years when it comes to artificial intelligence (AI). Especially in the healthcare industry, critics fear depersonalisation through AI. But the opposite should be the case.
The diagnosis is worrying: almost half of the doctors in German hospitals feel overworked. One in ten hospital doctors even say they are constantly stretched beyond their limits, according to a survey by the Marburger Bund (MB), which questioned 6,500 doctors nationwide in September and October 2019.
There are many reasons for the steadily increasing workload of medical staff in hospitals and surgeries: Staff shortages, an increasing number of patients, economic pressure. In times of the Corona pandemic, the problem is now even more obvious. The intensive care units are full, but the normal hospital routine continues. Many complain about hundreds of overtime hours and double shifts. In the end, it is the patients who suffer most: Doctors and nurses have little time and work as efficiently as possible. And the more stressed they feel, the less time they can devote to individual patients. The solution could be the use of artificial intelligence (AI). This sounds paradoxical at first: AI technology could lead to less human interaction, critics fear. But in fact, it could ensure that doctors and nurses in hospitals and medical practices have more time for people in the future – by providing meaningful support for standardised processes, diagnostics and administrative work
Better diagnoses thanks to AI
AI is not yet widespread in the healthcare sector, but the plans are great: for example, AI can meaningfully link and compare many different data in diagnostics and thus point out abnormalities to doctors. This supports doctors, speeds up and improves diagnoses. AI can also be used in emergency medicine. There, the technology helps to interpret and evaluate relevant previous illnesses for treatment. This quickly provides doctors with well-founded information on how to proceed. And AI will also be used more frequently in the future when deciding on the appropriate medication for patients. "In future, medical staff will be able to delegate routine tasks to digital, automated systems," says Marc Schipmann, healthcare specialist at the management consultancy Kienbaum. This will significantly relieve doctors and nurses.
The Techniker Krankenkasse (TK) recently launched an AI project to increase the safety of drug therapies. The so-called pharmacovigilance monitor works with the TK's accounting data and automatically identifies undesirable side effects in order to usefully supplement the existing reporting register to which doctors and patients still actively report undesirable drug effects. To do this, the AI analyses huge amounts of data. In this way, the TK wants to better protect patients from adverse drug reactions – which are still among the most frequent causes of death.
Smart hospitals, smart future
The clinic of the future will be a smart hospital, knows Jochen Werner, CEO of the University Hospital Essen and one of the most sought-after experts on the development of digitalisation in the health sector. In addition to AI, smart hospitals will also use digital patient portals, robots and electronic documentation of care and treatment services. All this is a reason for hope, says Werner. Because in smart hospitals the focus will be more on people again – on patients, their relatives and staff. "There is more time for the patient if you relieve the staff of administrative tasks – which unfortunately make up a large part of the daily working time."
However: Germany lags behind when it comes to digitalisation, also in the healthcare industry, Werner warns. Therefore, not only high investments in hospitals are necessary. At the same time, hospital managers, doctors and nursing staff must also work together to adapt the processes in hospitals to the use of more digital technology. Only in this way they can create the conditions for staff to have more time for patients in the future. But the work is worth it: "It's all about people," says Werner. And by that he means patients and hospital staff.