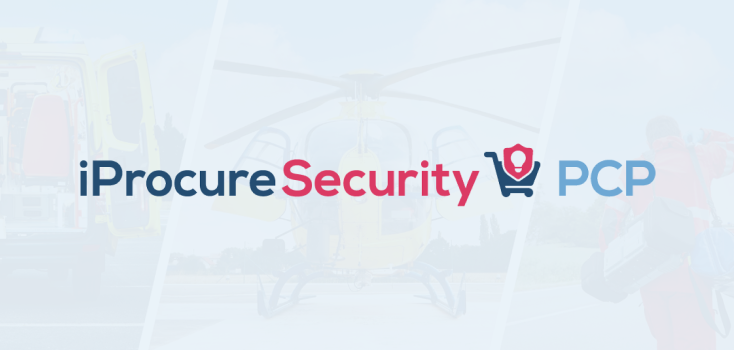 The iProcureSecurity PCP project was kicked off
After a rigorous planning phase, the iProcureSecurity PCP (Pre-commerical procurement) was officially kicked off in September.
BACKGROUND & OVERVIEW
The preceding iProcureSecurity Coordination and Support Action (CSA) identified current capability gaps and innovation needs of the EMS Ecosystem in Europe and created a pan-European network of practitioners engaged in knowledge exchange to enhance their capabilities and steer harmonization throughout the EU. To address some of these gaps, the iProcureSecurity pre-commercial procurement (PCP) project has been launched, focusing on Innovative Triage Management Systems.
A new consortium of 12 leading research organizations, government bodies and emergency medical service practitioners, has been established to procure solutions that improve triage scenarios through a flexible triage management system. Furthermore, the consortium will be supported by an advisory and experts board that will provide additional expertise. Overall, the procurers are responsible for the pre-hospital care of over 40 million people.
The three-year European Union funded project will see potential suppliers (well established industry players as well as start-ups are welcome to participate) going through a three-step process outlined in the PCP communication and associated staff working document to determine the best possible solution for emergency medical services practitioners:

To achieve a solid basis for the large-scale procurement of iProcureSecurity's triage solutions, impacts must be analysed, quantified and modelled to understand how and under which conditions the new systems and the services in which they are embedded can deliver what they promise. Throughout the project and particularly during the pilots, the consortium will collect empirical evidence by different means and from different sources to achieve these goals. The purpose of the evaluation in this context is twofold:
To support evidence-based decision-making for first responders as well as policy makers in the iProcureSecurity countries and regions when it comes to large-scale procurement after the immediate project duration,

To contribute to a European and global evidence-based decision-making for procurement of iProcureSecurity systems in further interested regions.
OPEN MARKET CONSULTATION
For technology and solution providers, especially SMEs, a PCP creates the unique opportunity to partner with a launching customer which expands their market competitiveness and brand visibility, but also supports their long-term business planning. In addition, the ongoing collaboration within the project provides an ideal opportunity for liaison activities between industry partners and buyer organisations, which further strengthens and homogenises the market for crisis management-related technologies. We encourage technology providers to visit the project's website (https://pcp.iprocuresecurity.eu/) for further information on the upcoming Open Market consultation in Q1 2022.
In order to tackle this challenge, the iProcureSecurity PCP project brings together 12 partners from 6 countries who will integrate their expertise in a variety of disciplines as part of the project's multi- disciplinary approach. The consortium consists of: SYNYO GmbH (Austria), EMPRESA PUBLICA DE EMERGENCIAS SANITARIAS (Spain), SERVICIO MADRILENO DE SALUD (Spain), ÖSTERREICHISCHES ROTES KREUZ (Austria), AGENZIA REGIONALE EMERGENZA URGENZA (Italy), AZIENDA SANITARIA LOCALE BENEVENTO (Italy), ELLINIKOS ERYTHROS STAVROS (Greece), ETHNIKO KENTRO AMESIS VOITHEIAS (Greece), IZMIR BUYUKSEHIR BELEDIYESI (Turkey), ACIL AFET AMBULANS HEKIMLERI DERNEGI (Turkey), KENTRO MELETON ASFALEIAS (Greece) and EMPIRICA GESELLSCHAFT FÜR KOMMUNIKATIONS- UND TECHNOLOGIEFORSCHUNG GMBH (Germany).