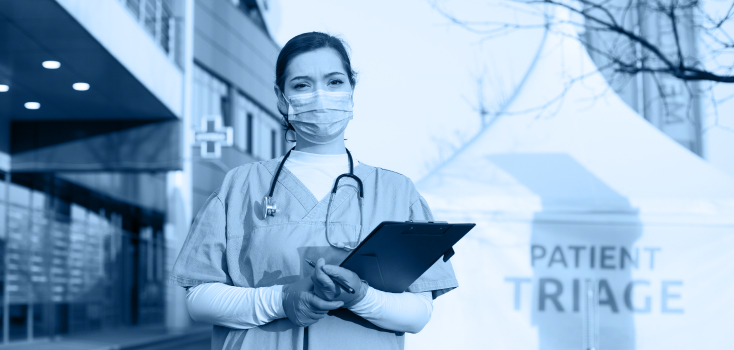 Triage of corona patients
According to people with disabilities, the guidelines for a triage require a legal basis. Based on that assertion there is a constitutional complaint lodged with the Federal Constitutional Court in Germany. Authors of the criticized triage guidelines plead for clarification by the legislature.
In the spring, the German Interdisciplinary Association for Intensive and Emergency Medicine (DIVI), together with other expert communities, developed a S1 guideline for intensive medical therapy for patients with COVID-19. "Such a guideline is the basis of all physicians in the intensive care units for a medically sound, fair decision," explains Professor Dr. Uwe Janssens, President of DIVI. "No patient will be excluded from care because of age, illness or disability.", continued Mr. Janssens
However, such measures do not reassure some people with disabilities. Based on the triage guidelines, the expert communities apply criteria for prioritization that unfortunately lead to "indirect discrimination". A frailty scale is used, according to which the criterion for treatment for example of an assisted person automatically leads to his or her downgrade. As a result the probability of successful treatment of older adults or people with disabilities can be calculated leading to the withholding of life-saving measures.
The constitutional complaint (Az .: 1 BvR 1541/20) is directed "against the legislature's failure to act". If the resources are not sufficient to provide life-saving care for everyone, the legislator must develop criteria for how to deal with the shortage. A solution that disadvantages people with disabilities is not constitutional.
The renowned legal scholar and guideline co-author Professor Dr. Jochen Taupitz, Mannheim, supported the call for a fundamental decision. The legislature could orient itself on the Transplantation Act and refer to rules that correspond to the state of the art in medical science – especially the prospect of success and urgency. DIVI President Prof. Janssens concluded that a legal regulation could not be introduced without the recourse to medical expertise. That is why, according to his opinion, the triage recommendations are currently indispensable.
Source: https://www.medical-tribune.de/meinung-und-dialog/artikel/triage-bei-coronapatienten-wer-wird-in-der-not-medizinisch-aussortiert/