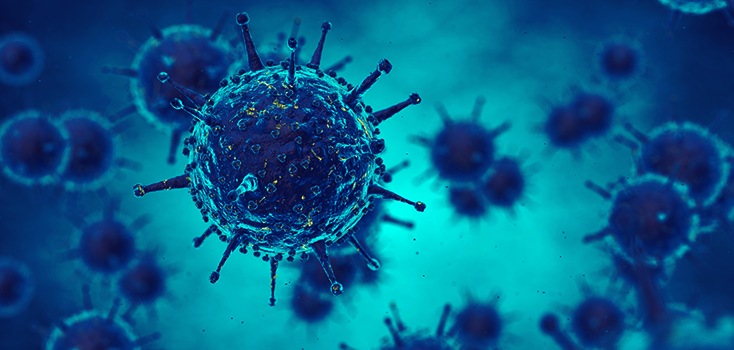 The Coronavirus in China – background and measures
It is believed that the source of the coronavirus was a wild animal at a fish market in Wuhan. According to experts, it was first transmitted from animal to human before the virus adapted to its new host and transmission between humans occurred.
By Thursday, the virus had been detected in 571 people, the Chinese health authorities reported. According to the local health authority, 17 patients have now died as a result of the new lung disease. [1] About 85 percent of the detected infections have so far occurred in Wuhan, the capital of Hubei province. In addition to this, the virus had also spread to other major cities, including Beijing, Shanghai, Macau and Hong Kong. Cases of the virus have also been detected abroad: Four cases have been registered in Thailand, and one each in the United States, Taiwan, South Korea and Japan. A suspected case was investigated in Mexico on Wednesday. In Europe there is no evidence so far.
Measures to maintain control
Because of this, new drastic measures have been implemented, which are intended to effectively stop the further spread of the new coronavirus: People are no longer allowed to leave or enter Wuhan and public transport including flights, trains, ferries and long-distance buses have been stopped entirely. The wearing of face masks in public was made compulsory.[2] In addition to this, China also started to use thermal imaging technology to screen for virus.[3]
In some regions hospitals also display tips on how to prevent further spread of the virus: "These include properly wash hands, keeping a distance from other patients and other ways of lowering the risk of getting infected. There were very few patients observed by the Global Times at the hospital's fever clinic".[4]
Development of a vaccine in progress
Meanwhile, the global Gavi vaccine alliance expected that the development of a vaccine against the new lung disease would take at least a year. The good news is, that researchers have already sequenced and published the genome of the virus. This has enabled several organisations around the world to start work on a vaccine.[5] The WHO has now also published the test protocol as the first diagnostic guide to date. Suspected cases can now be quickly examined for the virus. document is to provide interim guidance to laboratories and stakeholders.[6]
References
[1] Frankfurter Allgemeine Zeitung (2020): Wuhan im Ausnahmezustand. Available at: https://www.faz.net/aktuell/gesellschaft/gesundheit/coronavirus-china-kappt-verkehrsverbindung-nach-wuhang-16596385.html
[2] DerStandard (2020): Neue Coronavirus-Infektionen: Pflicht zum Tragen von Schutzmasken. Available at:  https://www.derstandard.at/story/2000113636857/neue-corona-infektionen-china-kappt-verkehr-aus-wuhan
[3] Skynews (2020): Coronavirus: China using thermal imaging to screen for virus in Wuhan. Available at: https://news.sky.com/video/coronavirus-china-using-thermal-imaging-to-screen-for-virus-11914096
[4] Global Times (2020): Chinese hospitals actively respond to outbreak of Wuhan pneumonia; analysts suggest no need to panic Available at: https://www.globaltimes.cn/content/1177425.shtml
[5] Gurufocus (2020): Vir Biotechnology applying multiple platforms to address public heath risk from Wuhan coronavirus. Available at: https://www.gurufocus.com/news/1020296/vir-biotechnology-applying-multiple-platforms-to-address-public-heath-risk-from-wuhan-coronavirus
[6] WHO (2020): Laboratory testing for 2019 novel coronavirus (2019-nCoV) in suspected human cases. Available at: https://www.who.int/health-topics/coronavirus/laboratory-diagnostics-for-novel-coronavirus