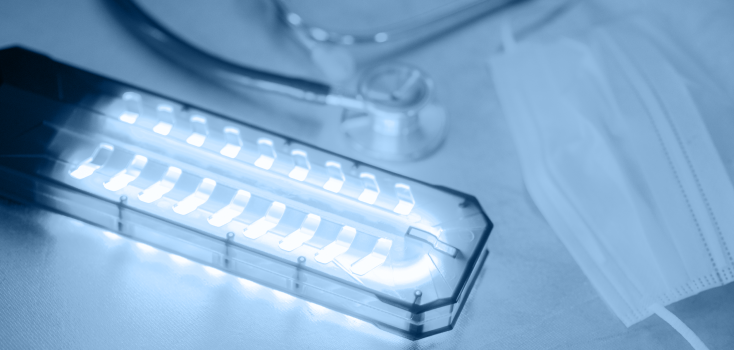 Light disinfection solution in ambulances: Fraunhofer and BINZ show the way
Disinfection with UVC light is not a new invention, but has been state of the art for many decades, for example in the field of drinking water treatment. Fraunhofer now succeeded in using it for the first time in an ambulance.
Ambulance vehicles are highly complex systems consisting of thousands of special parts optimised to save human lives. Even after an operation, the work for man and technology is far from over: The vehicles are then cleaned by hand according to an extensive work schedule and disinfected with chemical agents, which can sometimes take up to an hour. And this is exactly where the innovation of the Fraunhofer Institute comes in: Their solution enables reliable and rapid disinfection of surfaces and air at the touch of a button.
For an ambulance, the requirements to ensure reliable, fast and robust disinfection within the ambulance cell at the push of a button are very high. From the outset, a solution based on modern UVC LEDs was therefore chosen: Compared to the classic and inexpensive mercury vapour lamps, these are vibration-resistant, offer more efficient wavelengths for deactivating viruses and germs, have no warm-up times and can be optimally integrated into the already existing compact lighting system of an ambulance. In addition, the radiation range can be adjusted very precisely using attachment lenses. Added to this is an increased service life and the possibility of electronically monitoring the radiation doses. Another remarkable effect is that during the disinfection process not only the surfaces but also the air inside the ambulance are disinfected.
Three years of development time, a complex irradiation design with various optimisations and the permanent progress in the field of UVC LED technology now offer us the opportunity to finally bring the technology to the market:
In initial model simulations, the Fraunhofer IOSB-AST was able to confirm the effectiveness of the UVC LEDs in combination with the holistic system concept: The surfaces of the cabin interior in the ambulance are cleaned from viruses, bacteria and germs with up to 99.99 percent. From now on it is possible to disinfect the entire cabin area of the ambulance highly efficiently within only ten minutes. An enormous time advantage, not only in times of Corona.