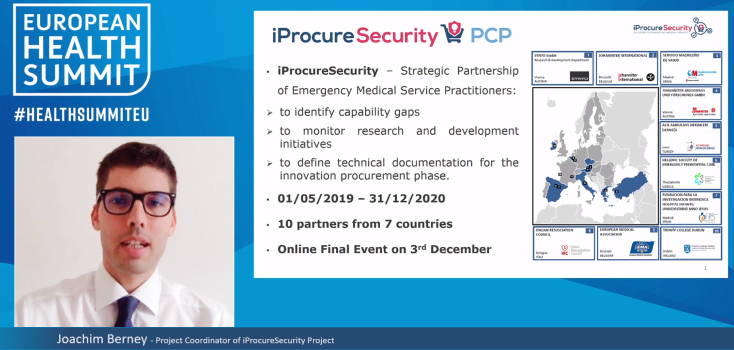 iProcureSecurity project at the European Health Summit
Joachim Berney of Johanniter International was able to represent the iProcureSecurity project at the European Health Summit, where he had the difficult task to explain in simple terms the rather technical project.
Mr.Berney started by explaining the background of the project: In Europe, emergency systems are a fragmented landscape – including a broad range of different practitioners to maintain. This was further confirmed by the corona pandemic during the last year, when patients needed to be transferred from one country to another.
The project iProcureSecurity responds to this fragmentation: As a first step all practitioners, experts, hospitals, industry, business providers and public institutions linked to emergency systems were mobilised. In addition, related projects and initiatives with similar interests were contacted as well. Furthermore, an interactive platform was created, where all stakeholders are invited to participate in the debate and share their thoughts – this platform will also be available after the end of the project.
Mr. Berney went on about the second phase of the project: here, the European EMS ecosystem was analysed, as well as its capability gaps, its challenges and its needs. This was carried out via analytical research, questionnaires, webinars and workshops. In this regard, the Project also became a liaison member of the European Committee for Standardisation. In this gathering process, the project identified 10 main arrays for research and innovation. This included 81 possible challenges and therefore also 81 possible needs.
Triage management was another focus of the project, that Mr. Berney mentioned. For that, the pandemic played an important role – as from the beginning practitioners on the ground had to face terrible decisions because of the saturation of hospitals. As many different stakeholders are involved in the triage system (from third party app developers to ambulances), the project realised that they would need a data driven triage management system – it will be crucial to develop it in order to enable a quick and accurate overview of casualties. In addition, decision support for better allocation of available resources, improvement of interoperability with other practitioners and the reduction of handover times between ambulances and hospitals would also be achieved.
Upcoming pre-commercial procurement project
Mr. Berney also talked about the follow-up project, that will continue iProcuseSecurity´s efforts with focus on pre commercial procurement. The project will consist of four phases:
Curiosity driven research
Solution design
Prototype development
Original development and operational testing
In the last phase, at least two suppliers will be selected to test their prototypes in real life situations.
The project is planned to give a public procurer with the possibility to provide funding to its suppliers, developing research and development services that are not available on the market yet. However, this proposal still needs to be evaluated within the next months.