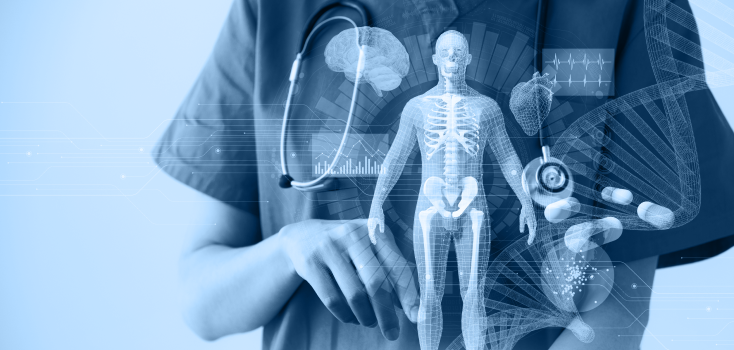 Artificial intelligence in hospitals
The Fraunhofer Institute has developed six sample scenarios for the use of artificial intelligence (AI) in the treatment of severely injured patients together with partner institutions from the health care system and the legal sciences.
Accidents in traffic, at work, in the home or during sports in Germany lead to injuries almost ten million times each year. A small proportion of these accidents lead to serious and multiple injuries. The care of seriously injured patients is one of the most complex situations in accident surgery. Treatment in the early phase is particularly important, i.e. the period until the patient is admitted to an intensive care unit or transferred to a specialised centre.
The LOTTE research project developed scenarios for the use of artificial intelligence (AI) and Big Data in the treatment of seriously injured patients in hospitals. These scenarios focus in particular on data-driven decision support. Data also play a decisive role in the early care of severely injured people, including information on the course of the accident, vital signs, pre-existing conditions and pre-medication, imaging data and measurements from medical equipment in the shock room. Machine learning methods gain knowledge from these data sets and provide the shock room team with valuable information by means of knowledge integration.
In order to explore the potential but also the challenges of AI in emergency care in the best possible way, Fraunhofer IAIS relied on the cooperation with interdisciplinary experts within the LOTTE project. Under the direction of the Chair of Management and Innovation in Healthcare and the Chair of Trauma Surgery and Orthopaedics at the University of Witten/Herdecke, experts from the Institute for Legal Informatics at the Leibniz University of Hanover participated in the project. Together, the team identified a total of 49 possible application scenarios for digitisation and the use of AI. Of these, six scenarios with a particularly high or relevant application potential were prioritised and analysed in detail.
The theoretically developed solutions are based on an "intelligent alarm chain" directly at the accident site. Here the technology automatically converts the flow of information between emergency doctors, control centre and hospital staff into data records. In this way, the loss of information from initial care to admission and treatment in the shock room is reduced to a minimum and the data collected provides early insights for the treatment process. First examples of data-based communication from practical experience show the necessity of a nationwide application.
In addition to Fraunhofer IAIS, the project partners were the Chair for Management and Innovation in the Health Care System and the Chair for Trauma Surgery and Orthopaedics at the Klinikum Köln Merheim at the University of Witten/Herdecke and the Institute for Legal Informatics (IRI) at the Leibniz University of Hannover.