03.12.2020 – iProcureSecurity Virtual Final Event
Re-Experience our Final Event
Final Event Webinar Part 1
Final Event Webinar Part 2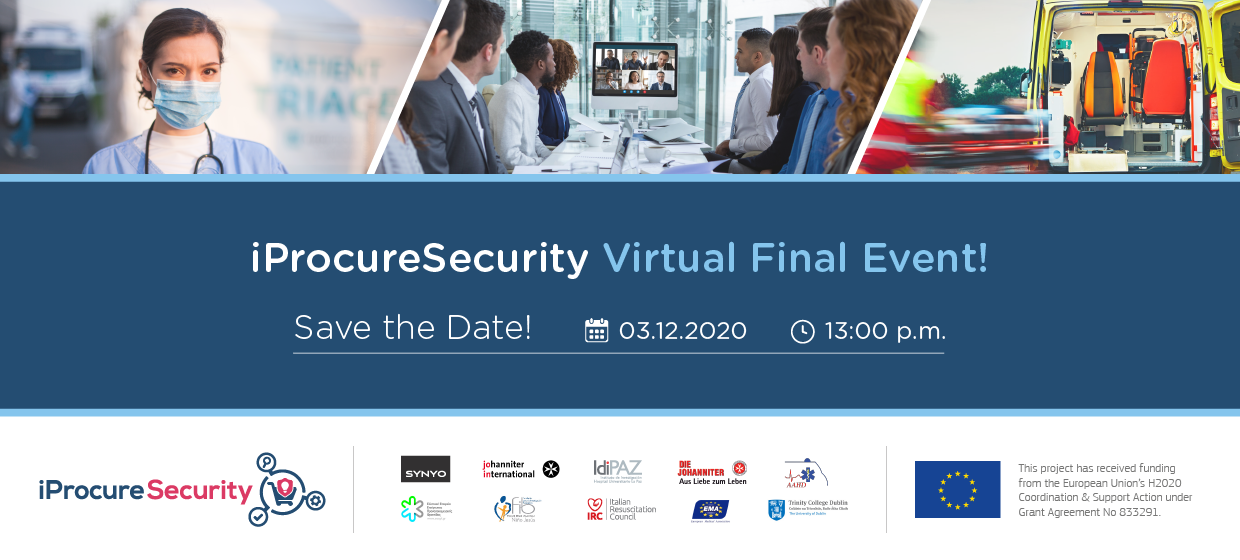 Join us on Thursday 03 December for the iProcureSecurity final event. We will bring together members of the consortium, Expert and Advisory Board, Emergency Medical Services (EMS) practitioners from across Europe, representatives of the R&D community, decision-makers and other relevant stakeholders in the EMS field.
The event will be the opportunity for the consortium to come together one more time (albeit virtually) to portray the legacy of this exciting collaborative venture for coordination of innovation procurement in the field of Emergency Medical Services in Europe.
We will present the actions and major achievements of the project and discuss the conclusions of iProcureSecurity on the preparation for the planned European-wide Pre-Commercial Procurement action.
The safety of our community is a top priority. In light of the health safety recommendations and restrictions resulting from the ongoing coronavirus pandemic, the iProcureSecurity consortium will deliver the final event virtually.
Further details on the event's agenda will be communicated in the upcoming weeks via the project's newsletter, social media channels as well as the EMS Network.
Preliminary Event Schedule