Ageing patients as challenge for EMS. Can technology help?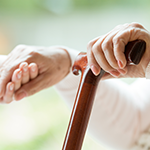 The ageing population is certainly a major factor for the growing pressures in the EMS – and it is one with which all health systems in the world are struggling.
Medical advances have meant that people are living longer. When the NHS was created, life expectancy was 13 years shorter than it is now. Addionally, the average 65-year-old costs the NHS 2.5 times more than the average 30-year-old.
How to react to this? Are modern technologies a solution?
Viewing 1 - 2 of 2 discussions
Viewing 1 - 2 of 2 discussions
You must be logged in to create new discussions.