Historia Clínica Embarcada (On Board EHR)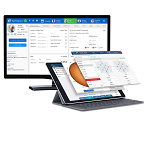 Es fundamental contar con una historia clínica electrónica en la que los profesionales puedan registrar los datos de cada paciente, donde se puedan cargar los datos de la historia electrónica desde hospitales, atención primaria y cualquier institución que posea datos clínicos relevantes para evaluar la situación actual y el mejor tratamiento disponible. Ésta es una tarea todavía por completar y que debe incluir a los servicios de emergencias y todos los servicios de salud.
It is essential to have an electronic medical record in which professionals can record the data of each patient, where the electronic record data can be uploaded from hospitals, primary care and any institution that has relevant clinical data to assess the current situation and the best available treatment. This is a task still to be completed and must include emergency services and all health services.